Welcome!
We offer interactive, self guided onboarding and training for new users like you to learn at your own pace. The onboarding modules are designed to allow you to become active and productive in the Functionize platform as quickly as possible. Statistics show giving you ownership over your learning creates more internal motivation to learn!
You can find the Help feature displayed at the bottom right of the screen upon sign in. It can be found here and looks like this: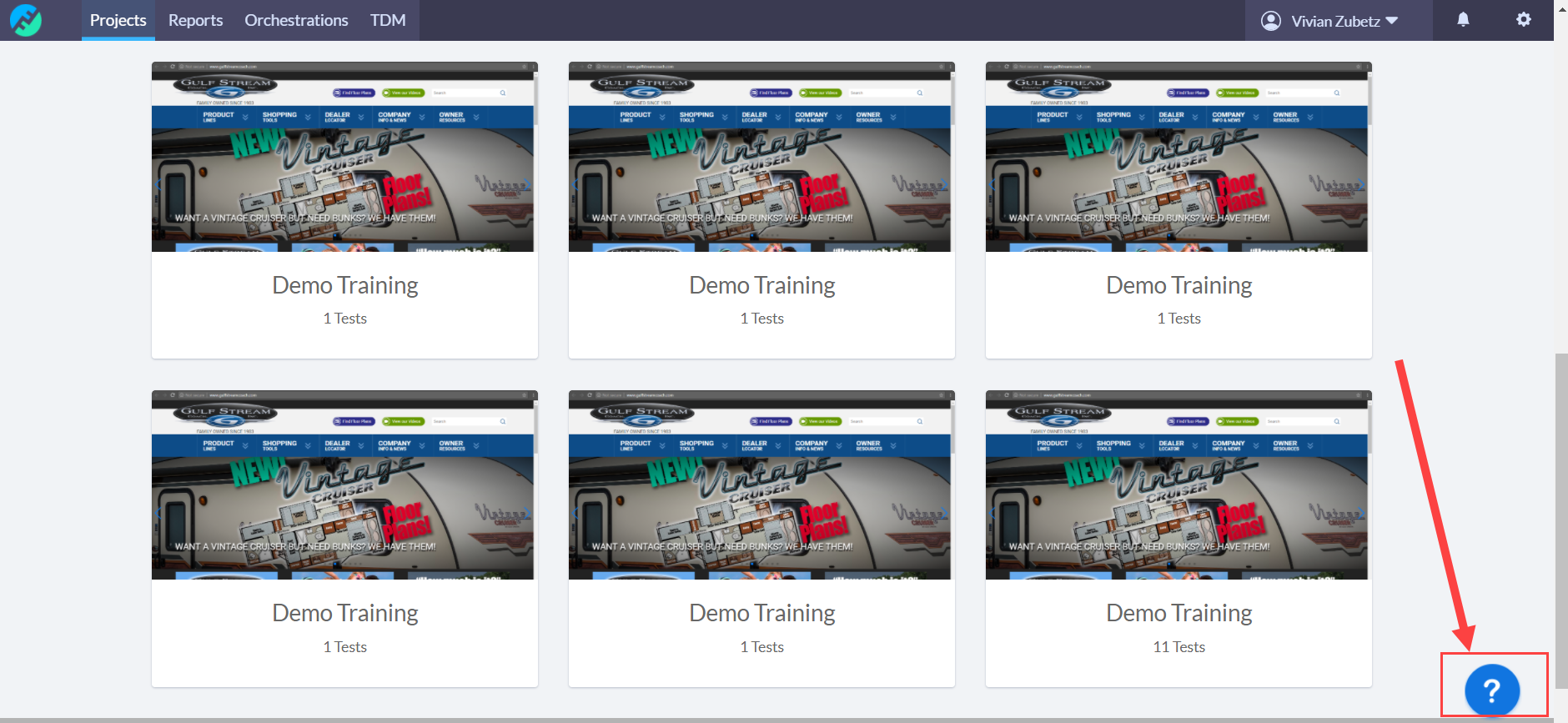 Why Self Guided Training?
Convenience. Learn at your own pace.
Suited for all types of learning styles. Offers you the ability to refer back to content multiple times, increasing learning and comprehension.
No Scheduling Issues. Simply launch training and onboarding modules when you're ready to learn.
Ensures Quicker Adoption. Get started with training instantly.
Greater Focus. Creates independence, autonomy, and less distraction.
In order to best serve all training needs, we have put together a list of best practices, tips, tricks as well as useful tidbits for troubleshooting to get the most from the onboarding & training experience.
What to Expect
A menu will pop up defaulting to the Help tab. Please click the Onboarding Tasks tab.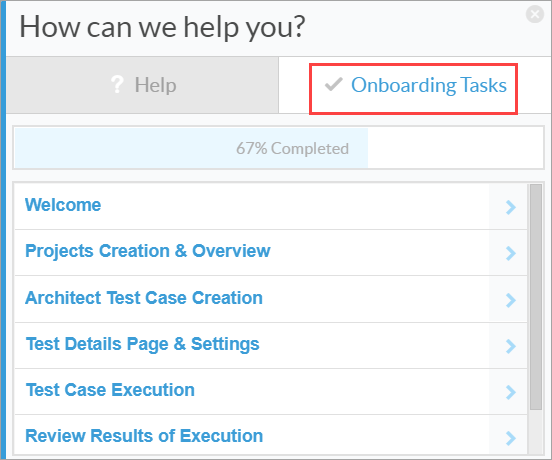 Some of our self guided modules will offer tours of different features and functionality while others will dive deeper into the how-to, where and why. Some will require active input of requested information while others will auto select items to push the user through a workflow. We ask that our new users please be aware and follow the instruction bubbles! *For reference, this is an instruction bubble: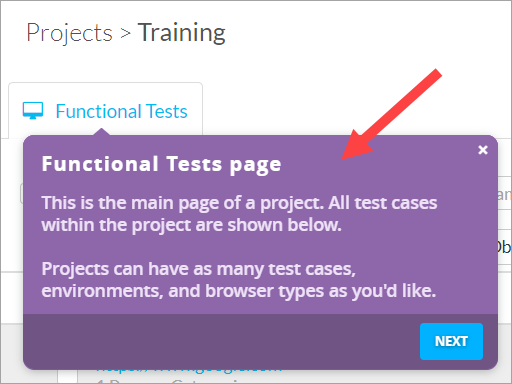 All instruction bubbles within the walkthroughs will visually look like this. Please follow these instructions as active direction to guide from bubble to bubble.
Many of the walkthroughs will also include links to documentation, tutorials, user guides and other articles relevant to the different topics being trained on. See also the ?HELP tab below.
Best Practices
Make sure to "allow all cookies" in settings to allow the walkthroughs to appear properly.
All walkthroughs have been designed with a workflow in mind. The Onboarding Task list is organized accordingly. We strongly encourage new users to follow each walkthrough from beginning to end and then start the next in sequential order.
The Onboarding Task List will strike through all completed tasks as completion goals are met.
Upon completion of each onboarding walkthrough, the user will naturally connect/flow into the next topic in sequential order. Note: If a user ends/exits a walkthrough before it has been completed, they will need to begin that walkthrough from the beginning by opening their list of Onboarding Tasks and selecting that topic.
User can complete all Onboarding Tasks in a single session or break them up. Opening the Onboarding Task List displays a view of user progression in percentage.
Some of the walkthroughs will take a few seconds to load. We have accounted for these brief wait periods. Please be patient noting if the browser is loading a next step/instruction bubble or has stopped completely.
At any time you may revisit any of the Onboarding Tasks and Training walkthroughs, regardless if they have a strikethrough. This will hopefully solidify any questions and offer a Tier 1 level of support.
Troubleshooting
"My walkthrough bubble has disappeared and I am unsure of how to proceed."

We do not recommend clicking out of the browser training window. If you have done so, you may need to restart that topic by opening the Onboarding Task list again and clicking on that walkthrough.

"I ended my walkthrough before it was completed. Can I start where I left off?"

Unfortunately, not at this time. This will require a restart of the walkthrough from the beginning from the Onboarding Task List.

"I don't see the ?HELP widget on the bottom right of my screen to open the HELP/TRAINING modules."

T

here are known ad-blockers that can prevent the widget from appearing.

Make sure your pop up/ad blocker is turned off.

"What browsers are supported for the self-onboarding and training walkthroughs?

Google Chrome (v51 or newer) *This provides the optimum experience
Firefox (v57 or newer)
Safari
Internet Explorer
Edge Legacy (v40.15063 or newer, starting from Windows 10.1703)
Edge Chromium
Mobile Web

Chrome
Safari
Android Internet
The ?HELP Tab
The ?HELP tab currently offers shuttles (or links) to our knowledge base portal. These include the entire knowledge base, as well as Release Notes, User Guides and Troubleshooting. We will continue to improve this feature.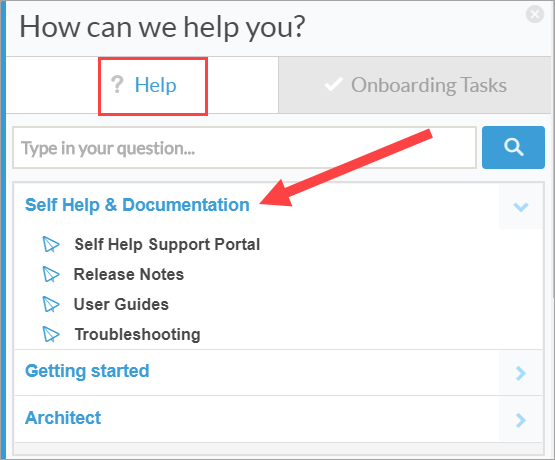 To Get Started with Self Guided Onboarding & Training
Login in to Functionize
Click the

blue

"?" button at the bottom right of your screen. By default, this will open to ?HELP. Click on the Onboarding Tasks tab.
Get started by clicking on the first walkthrough under Welcome titled, "Functionize App Tour".
Please be advised that we appreciate you, our new users, and hope this self guided onboarding experience is a successful and positive one. We would also greatly honor any feedback to better serve your business needs. If at any time assistance is needed, please do not hesitate to contact your Customer Success Manager or email us at support@functionize.com.