Architect Settings allow for a more fluid test case creation experience using Architect by establishing a set of criteria for a streamlined process.
To Access Architect Settings
In Architect, toggle ADV to ON.
Click the icon
Click on Settings gear icon. All settings can be toggled ON/OFF.

Always clear browser data: When on/enabled, this feature will make sure the browser data/cookies are always cleared before proceeding to record. The user will no longer see the Cookies Warning pop up when beginning a test case in Architect.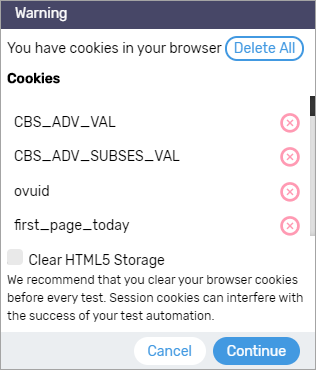 Coverer: Coverer must be enabled in order to perform a double click action.
Mouseover: When on/enabled, a mouseover hover action is disabled in test creation.
Mouseout: When on/enabled, a mouseout hover action is disabled in test creation.
Long Text: When enabled, there is no limit to the number of characters of text that can be captured.
When disabled, text save is limited to 250 characters.
As an example, if the user were to verify any text input of more than 250 characters, an error message will pop up indicating "Selected values can not be larger than 250 characters. Please select a different element."
Adaptive Language Processing: When enabled, ALP is turned on. *On/enabled by default for all users.
ML Deep Analysis: ML Deep Analysis helps to collect the site's data so that we can most successfully run the test. When this is disabled, we are unable to collect data about the site which means the user may encounter unexpected behavior during initial executions which might need to be resolved manually in order to fix the test. This can be done through the action log or live edits as usual. This should only be disabled if a specific site is encountered that causes Architect to run too slowly due to a particularly large set of data. This is on/enabled by default for all users.
Force 100% Zoom: Some sites force a particular zoom setting causing Architect to appear broken within a smaller rectangle. If testing a site such as this, set the Force 100% Zoom to on/enabled.
Enable AI Assist: This setting is on by default. When on/enabled, the user will receive various messages throughout the test creation process to encourage higher quality, robust tests.
Disable Service Workers: Some sites use service workers to cache network data. When this happens, Architect cannot record actions correctly. Set this to off/disabled to prevent this situation from occurring.