Sometimes a test must wait for an on-page event before the next step executes. For this scenario, Wait Actions can be added.
Please note: wait actions are limited to two minutes. If a longer wait action is required, it is suggested to split the test case into two and execute it using an Orchestration. If that is not viable, please contact the account manager to discuss other options that may be available.
To Create a Wait Action
Click the plus icon

from the main screen of Architect and then select Wait from the advanced action list.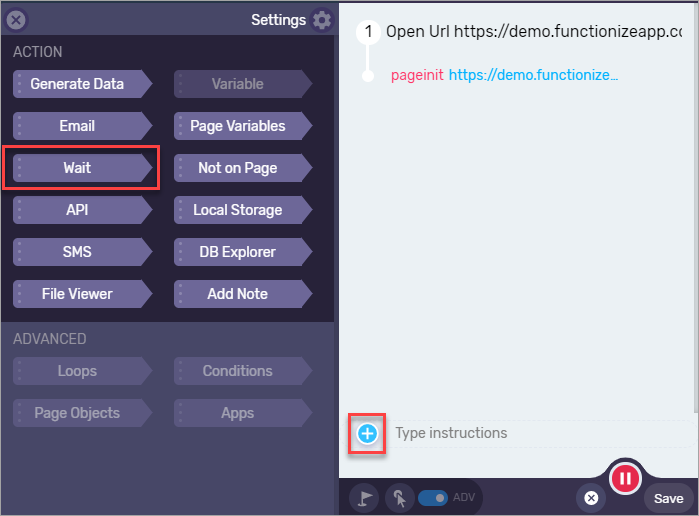 The final step is to select a wait time (in milliseconds) that is not greater than two minutes.

To Add a Wait Action to an Existing Test Case (that was created via Architect)
Go to the Functional Tests tab and locate the test case in question.
Click Actions>>Details.
Click on Action Log tab.
Click the Actions icon (far right of the screen), then select Add New Action. See below:
In the Add Action pop up window, select 'wait' from the drop down menu.
Click Continue.
In this (Wait) Add Action pop up window, the time (in milliseconds) is required. All other fields are optional.
Once complete, click Submit.
Then select the action that is appropriate for the edit. Either 1-Update the test plan to keep it in sync with the test case or 2-Do not update the test case.
Click Confirm when complete.
Note: This will send the user back to the Chrome 74 tab, and the Wait Action will now be applied to the test case. See example screenshot below: